How to launch a career in the UK's Healthcare and Social Care
Find out how to enter the health and social care profession. Choose your focus area, job level and the professional courses that suit your profile.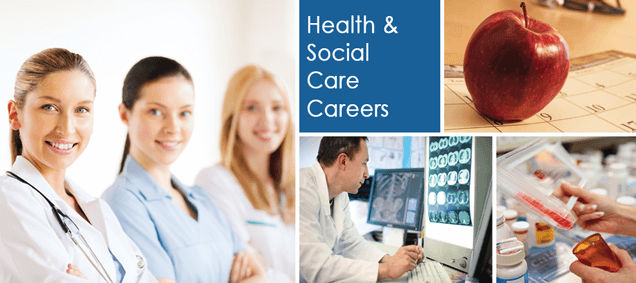 It is important to have a career planning checklist to make sure that you're cut for it, that you have the motivation and the professional training qualification to make your career choice rewarding in the long run. You can get direct, real life insight from various professionals in healthcare - or, you can get personalised advice from career specialists and training providers who prepare the UK's next generation of health and social care professionals, all here, on Findcourses.co.uk!
How to decide if a career in Health & Social Care is the right choice for you?
Reading articles about the real stories behind a career in the medical sectors and exploring the learning journey of those who chose medical degrees can be a first step in this process. Medical training programmes offered as college and university degrees ensure that candidates are aware of the skills required in the field. It is vital that you express interests in a health career and visit a health care administrator to talk to a guidance counselor as this will enable you to identify the appropriate institutions where you can take a degree course.
When looking at advanced or academic degrees in health and social care, you should focus on both the undergraduate and graduate programmes and supplementary opportunities such as scholarships and financial aid, based on your profile.
Where do you start your education and professional training for the healthcare sector?
There are numerous health & social care training options that one can enroll on without a college degree in medical sciences, that can put you on track for a career in this sector. The health sector is a vital and developing market in the UK, and over the recent years, it has had a positive economic growth. This has resulted to the increase of both the demand of health practitioners and the qualification standards required to enter a profession in this field.
If you are opting to pursue a career in health sector in the UK, there are several fields that offer learning opportunities in the country. Specialised training providers offer an extensive range of degree in the medical sector and social care.
We selected some of the most popular job roles in the UK's healthcare sector. There's been a constant demand for qualified professionals to fulfill positions over the past years across the UK. Jump to the job role that interests you most and find out what responsibilities it involves and how you can attend training courses to that prepare you for a profession in this field.
Browse the complete list of Health & Social Care training courses!

Registered Nurse
Getting trained to be a registered nurse gives one the chance of working in the diverse department of medicine. Currently in the UK, there is an increased demand for qualified nurses, and many students have opted to take a professional specialisation course and launch a successful and rewarding career. To be registred in the nursing practice field, one is required to have an associate degree and other certification requirements as required by the employing institution.
To become a registered nurse you must complete a degree that will assure you a promising career in the UK upon completion of the course. There is a rise in the demand for registered nurses in the country. One advantage of this course is the availability of job positions. Nurses work in settings such as nursing homes, patients at homes, at hospitals, maternity homes and at health centers. An investment in professional training as a nurse has almost immediate pay backs, with an average starting salary for a newly qualified registered nurse of around £20,000.
Medical Secretary
Training programmes preparing clinical medical assistants and medical secretaries enable candidates to assist physicians to perform tasks related to the clinical aspect of medical offices. Medical secretary positions are currently available through the NHS, specialised clinics and private practice offices. Courses that prepare medical secretaries cover a comprehensive medical training curriculum and practical office administration skill set, making clinical and medical secreteries effective in their work with patients and physicians.
Find Medical Secretary training courses
Medical Assistant
A suitable entry path in the medical assistant profession is through a traineeship, during or in parallel with one's studies. Depending on the study track, there are different requirements for one to be offered a position as a trainee. One can either start as a trainee, support worker or assistant. In this situation, one combines the job practice with the studies to allow a system where you learn as you earn.
Candidates are required to have passed their GCSEs or have previous experience working as a medical assistant. An undergraduate entry requires an A level or equal qualification in level 3 education, and you can apply for a position as a trainee as a part-time or a full-time student to study a BSc Health or Medical Science degree. The requirements for graduate entry include a first or upper second degree in a particular specialisation area. With this, one is qualified to apply at NHS Scientist Train Programme (STP) as a specialist in a medical or related science field.
The minimum qualification for a postgraduate entry is an appropriate 2:1 degree. However, these are general requirements; each sector in the health has specific detailed requirements. For instance, the qualifications for a registered nurse are 240 points from A-Level education, national diploma in BTEC, GCSE of A-C in five subjects that must include the English subject, science and mathematics. Applicants who are non-native speakers and do not have the required GCSE English grade C are supposed to have IELTS mark of 7.0 and above. The selection process of registered nurses entails an interview, literacy and numerical tests on a preserved day. These requirements are specific for the course of a registered nurse, and other courses have their requirements. It is essential to set certain requirements so for the professional development of medicare workers.
Radiology Technician
A radiology technician, also known as an x-ray tech, captures the images of human tissues and organs using the X-ray machines. Following professional training in this field one has a chance of working in hospital setting and other x-ray specialised clinics using state of the art technogologies that help support the diagnosis and patient care processes. A typical university degree course leading to a radiology specialisation takes two years to complete, and directly qualifies graduates for professional work within radiology departments. Radiology technician training courses focus on dealing with x-rays technology and CT scanning.
Dialysis Technician
During a professional training programme leading one to become a Dialysis Technician, students acquire the medical knowledge specialising in urology and the technical skills to review kidney dialysis machines, medical equipments and how to coordinate the dialyzer delivery and processing system.
Physician Assistant
After completing a degree as a Physician Assistant, one is required to work along a physician. They are the first one to see a patient before the doctor, this is a degree that requires 2 years to complete. They work for longer hours i.e 40 hrs in a week.They are paid a median salary of an estimated average salary £23,000 annually.
Dental Hygienist
Dental hygienist is a profession that is increasingly popular and marketable, with a high job demand in the UK. Therefore, pursuing a qualification course in dental hygiene guarantees one a job upon completion. One advantage of this degree is that one can even start a private clinic, all one needs is a valid certificate recognised by the Ministry of Health to show that they are fully qualified for this position.
Cardiovascular Technician
In this area, one is expected to work with ill patients suffering from a heart condition. The Cardiovascular Technicians aid the doctors diagnose issues involving the heart and carry out other administrative duties. As a trained cardiovascular technician, one can work in cardiovascular clinics and hospital departments.
Massage Therapist
As a trained massage therapist, one can work in pulmonary practices and at personal home health facilities. It only required 2 years to be a registered massage therapist, although you can further your studies to learn complex types of massage therapy.
Soft skills training courses for Healthcare Professionals
Professional development within a healthcare job role is expected to be complemented by a social competencies including communication skills, interpersonal skills and effective teamwork. There are specific medical qualification requirements that are essential for success in any healthcare programme. However, although holding a degree or diploma is not essential in roles such as social work assistant, excellent academic qualifications are important at any level of medical education.
Find Communication Skills Courses
Medical Devices Auditing
Professional training programmes covering the international ISO standards for the verfication and quality assurance of medical equipment and research laboratories have been developed by industry experts over the past twenty years. The ISO 13485 is the international standard in compliance to which auditing professionals conduct internal audits of medical devices. With growing market competitiveness,medical devices buyers are increasingly savvy when choosing their preferred provider and ensuring quality compliance is at the top of the priority list for medical devices manufacturers.
Find medical devices auditing courses
Last updated:
11 Jul 2014