HR and L&D: An External Training Outlook
We surveyed 395 Human Resources and Learning & Development users to learn more about their employee training practices. Here's what we learned!
The outlook for employee training in the UK is looking up for 2016. The majority of HR and L&D professionals surveyed said that their employee training budget will increase or remain the same this year.
All HR and L&D professional surveyed emphasised employee development as a key element in UK companies.
We learned that sourcing training is a crucial and time-consuming responsibility in the field.
If your company can provide solutions to make researching and booking training a more efficient process, it would likely be appreciated by busy HR and L&D practitioners.
A multi-targeted marketing campaign is more important than ever as sourcing training may involve a multi-step process from employees to HR and L&D professionals to managers and directors.
We suggest framing your training benefits to appeal across organisational levels, explaining how the training can enrich the career of the individual as well as help the organisation achieve results.
HOW IMPORTANT IS EMPLOYEE DEVELOPMENT IN YOUR ORGANISATION?
The average HR and L&D professional perceives employee development as a strong area of importance within their companies, with 89% reporting that it is very or quite important in their organisations.
Employees: 13%
HR: 42%
Managers: 24%
Combination: 21%
HOW MUCH DOES YOUR ORGANISATION USE THE FOLLOWING TYPES OF TRAINING?
In-house training developed internally is the largest competitor for training companies with 9% using this exclusively and only 2% not using it at all.
Massive Open Online Course providers face the biggest hurdles with 54% of employers never using MOOCs as a means of employee development.
While not often used exclusively for all of the company's training needs, in-house training providers are contracted by 87% of the companies surveyed while 81% surveyed send employees on open courses.
WHO IS RESPONSIBLE FOR SOURCING TRAINING IN YOUR ORGANISATION?
Human resource professionals and managers account for 65% of external training purchasing.
The remainder leave it up to employees to select training in accordance with their manager or HR department, implying that a portion of your marketing strategy should target individual employees.
Employees: 13%
HR: 42%
Managers: 24%
Combination: 21%
HOW MUCH OF YOUR OWN TIME DO YOU SPEND SOURCING TRAINING?
Sourcing training can be a highly involved process for L&D and HR professionals accounting for half or more of the time at work for almost 50% of those surveyed.
Sourcing training accounted for some time each week for 69% of those surveyed.
40+ hours per week: 7%
30 hours per week: 11%
20 hours per week: 31%
10 hours per week: 20%
4 hours or less per week: 31%
DOES YOUR ORGANISATION HAVE AGREEMENTS WITH CERTAIN TRAINING PROVIDERS?
There is an open segment for training providers looking to form new bespoke training agreements. Only 53% of those surveyed work for a company who hold a standing agreement with one training provider.
The majority manage a budget between £100-£500 per employee for their training and development.
Yes: 53%
No: 31%
I don't know: 16%
HOW DO YOU EXPECT THE TRAINING BUDGET TO CHANGE FOR 2016?
Training allotments for employees are predicted to expand with 49% of users saying their employee training budget would increase this year.
With only a minority predicting a decrease in training budget, the outlook for the UK professional training industry looks positive for 2016 as employee development remains a priority.
Increase: 49%
Stay the same: 27%
Decrease: 7%
I do not know: 17%
WHAT IS YOUR ORGANISATION'S ANNUAL TRAINING BUDGET PER PERSON?
The majority of organisations surveyed hold an annual budget of £100-£1000 per employee with 13% spending less than £100 per employee.
Booking discounts for large groups or online alternatives could provide a method for catching this minority. Confidentiality and lack of budget knowledge in an HR role limited the reach of this data.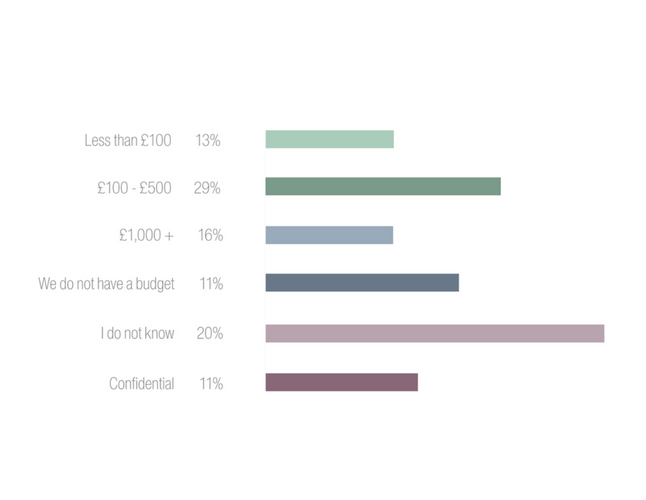 Last updated:
18 Jun 2018